Gastric Sleeve vs. Gastric Balloon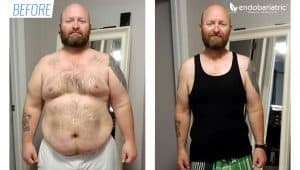 When comparing gastric sleeve surgery to a gastric balloon insertion, it's important to remember that each option appeals to a different type of patient. As we saw in our discussion of gastric bypass, both the sleeve and bypass are long-lasting solutions for obese individuals who seek to restrict their intake of calories by reducing the body's capacity to store and digest food.
Dr. Guillermo Alvarez, the founder of Mexico's Endobariatric medical facility across the border from Texas, specializes in gastric sleeve procedures for the simple reason that the technique is a proven solution that permanently changes a patient's appetite, BMI, and ability to enjoy life.
The gastric balloon is minimally invasive and has a role to play in preparing morbidly obese patients for gastric sleeve surgery, but Dr. Alvarez recommends that severely overweight individuals consider gastric sleeve as a choice that will pay dividends of health and happiness for years to come. And Dr. Alvarez is the bariatric surgeon you want for this life-changing surgery, as he has performed more than 17,800 gastric sleeve procedures, making him one of only a dozen Master Bariatric Surgeons in the world designated a Bariatric Surgeon of Excellence.
Below, Dr. Alvarez answers questions regarding the comparative benefits of the gastric balloon and gastric sleeve procedures.
Gastric Balloon FAQs
When is a gastric balloon technique appropriate?
If your BMI exceeds 50, a gastric balloon can be a bridge to a successful long-term surgical solution. Rising weight correlates with greater risk in surgery, and so extremely obese patients may benefit from undergoing a balloon procedure, lowering BMI, and scheduling gastric sleeve for a later date. Although a gastric balloon is less invasive and has fewer side effects, it is a temporary solution that typically results in less weight loss than the gastric sleeve. In most cases, a gastric balloon will remain in the stomach for no more than six months.
How does a gastric balloon compare with the gastric sleeve?
There are many types of gastric balloons available, but they all operate on the same principle: In essence, the balloon is masquerading as food, tricking your stomach into believing it is full. The silicone balloon is filled with either air or water. The balloon is usually placed in the stomach with an endoscopic procedure, during which a flexible tube is guided by a tiny camera down the throat. There are two varieties of gastric balloon that can be swallowed, however. With gastric sleeve surgery, your new stomach (a tube that resembles a sleeve) will be approximately 20 percent of its previous size.
Is gastric balloon an effective weight loss solution?
If you are not severely overweight, the gastric balloon can help you lose your appetite long enough to inch closer to your desired weight. If your BMI is high, the balloon isn't a very useful answer to your chronic weight problem. Studies show that after six months of a gastric balloon in the stomach, patients can expect to lose about a third of their excess weight; however, by the end of a year, the weight loss is only 10 percent. Long-term weight loss from gastric sleeve ranges from 50 to 70 percent of excess weight.
What other benefits does gastric sleeve offer, in comparison with gastric balloon?
The gastric balloon procedure takes less time — about a half-hour in most cases — and is less expensive, but often is not covered by insurance. Gastric sleeve, by contrast, is usually covered. Potential complications of gastric balloon are ulcers, gastric erosion, and instances in which the balloon deflates and blocks the intestine or produces gastroesophageal reflux. Such complications happen mostly if the balloon remains in the stomach beyond six months.
Because weight loss is greater with gastric sleeve and more enduring, patients benefit from a reduction in risk from a variety of chronic conditions, including diabetes and hypertension. Lower weight also correlates with reduced risk of cancer, heart disease, and stroke. Slimming down takes the pressure off your knees and other joints, preserving their flexibility and vitality.
Gastric Sleeve Surgery Consultation
If you would like to learn more about the gastric sleeve surgery, we invite you to request a free consultation with experienced Mexico and Texas bariatric surgeon Dr. Guillermo Alvarez by calling 1-800-381-8115 (toll-free) or filling out our online contact form today. Dr. Alvarez is extremely accessible to patients on both sides of the border and offers convenient transportation options from San Antonio and other Texas cities.