Sleeve Gastrectomy (Gastric Sleeve)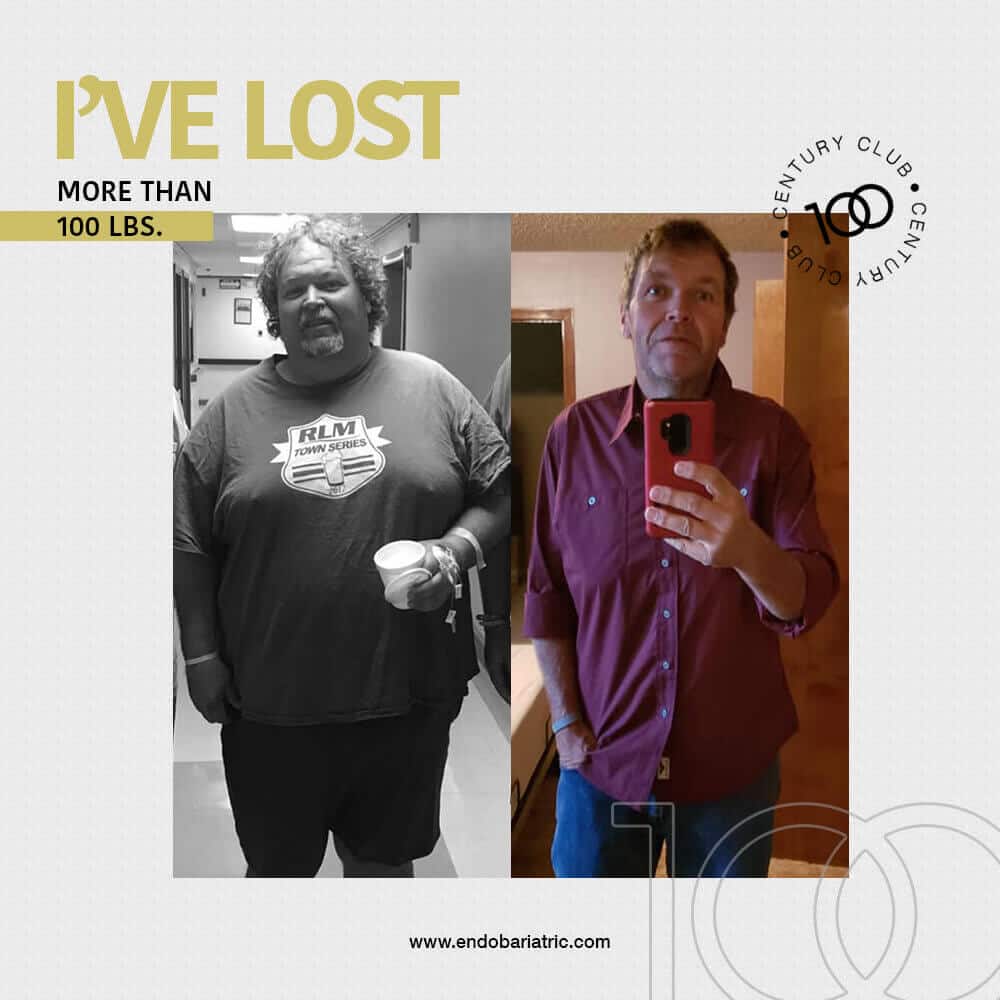 Dr. Guillermo Alvarez has chosen to focus his bariatric surgery practice exclusively on the vertical sleeve gastrectomy (VSG or gastric sleeve) procedure. In his experience, the gastric sleeve provides the best outcomes with fewer risks than other procedures. The surgery permanently reduces the capacity of the stomach, in order to reduce caloric intake. The result is substantial, sustainable weight loss — no dieting needed!
Benefits of Gastric Sleeve Surgery
As you explore the available bariatric surgery options, consider the unique benefits of gastric sleeve surgery:
An easy, permanent way to eat less and still feel full
Removes most of the part of the stomach where "the hunger hormone" is found, so you will have decreased hunger and feel satiated by smaller meals
No foreign object placed in your body
Maintenance-free, and requires no lap band adjustments or "fills"
No intestinal rerouting, malabsorption of nutrients or risk of related complications
Rapid recovery – you can resume work and your day-to-day activities soon after surgery
What Happens During Vertical Gastric Sleeve Surgery?
During surgery, bariatric surgeon, Dr. Alvarez removes a significant portion of the stomach, leaving a narrow, banana-shaped "sleeve." This includes most of the area where ghrelin, or the hunger hormone, is found, so you will discover that you feel less hungry after surgery. The newly created stomach pouch can hold a considerably smaller amount of food, so you will feel fuller, sooner.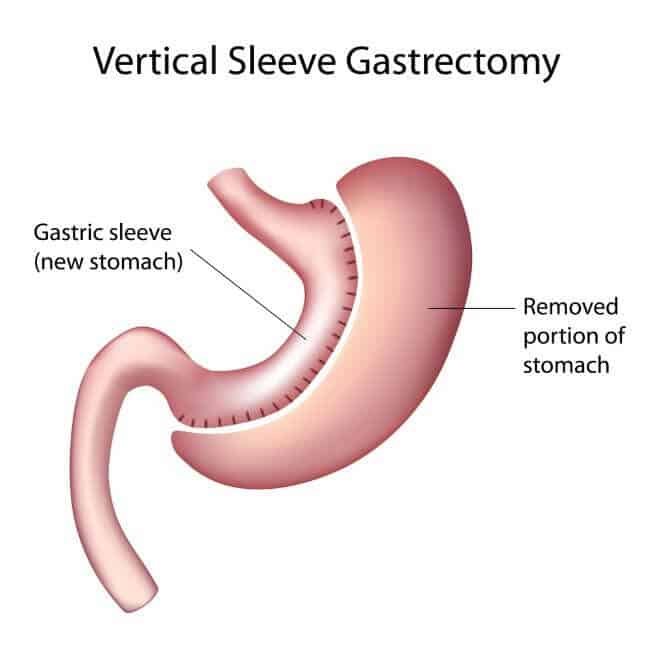 Unlike other bariatric procedures, the gastric sleeve does not require the implantation of a foreign body inside the abdomen, nor does it require rerouting the intestinal tract in any way. This eliminates the risk of adverse side effects such as dumping syndrome, malabsorption of nutrients, vitamin deficiency and other complications.
Dr. Alvarez routinely performs the gastric sleeve procedure laparoscopically or using minimally invasive techniques. With the laparoscopic approach, there are smaller scars, less pain, and a quicker recovery than with traditional open surgery.
Gastric Sleeve Recovery
Recovering from gastric sleeve is highly individualized. Some patients feel like themselves again very quickly after surgery, and others need a bit more time to recuperate. It is most important to listen to your body and not push yourself to return to your normal activity level too soon — doing so could set back your overall recovery timeline or lead to complications.
First Few Days
Right after your surgery, you may stay overnight in the hospital or surgery center. Your vitals will be monitored and you will be closely watched for any signs of a complication. The hospital or surgery center staff will encourage you to get up and start walking as soon as you feel ready.
Your abdomen will initially feel sore and tender from the procedure. You may opt to take over-the-counter or prescription pain medication if you need it, but not all patients do.
When you are discharged from the surgery center, you will receive complete instructions for your recovery, including how to care for your incisions. You should also save our office's phone number in case you need to call us with questions or concerns about the directions.
Your New Eating Plan
Initially after gastric sleeve surgery, you will drink only clear liquids and then switch to a liquids-only diet. After a few weeks, you can transition to eating soft, pureed foods.
Our team will advise you of how many calories you should consume every day. It may not seem like a lot, but your appetite will be decreased, as the surgery removes most of the part of your stomach that produces the "hunger hormone." If your energy level seems low, focus on getting plenty of rest and staying hydrated with water. When you start to incorporate more foods into your diet, you should find you have more energy.
Follow your new eating plan as closely as possible. Switching to solid foods prematurely could interfere with your stomach's healing and/or cause uncomfortable side effects like nausea or vomiting.
Returning to Work
The amount of time you take off from work to recover from gastric sleeve surgery depends, in part, on the duties and responsibilities of your job. If you work a desk job, you can return to work as soon as one week after surgery. If your job requires heavy lifting, strenuous activity or spending a lot of time on your feet, plan to take some additional time off before returning (or, if possible, ask for some modifications to your duties).
Returning to Exercise
Dr. Alvarez will advise you as to exactly when you can start exercising after surgery. He usually asks patients to wait at least four weeks after surgery before engaging in any strenuous activity like weight-lifting or high-impact aerobics.
In the interim, walking is a suitable way to get some activity in your day. Take it slow, and if anything hurts, take a break. Soon enough, you will be ready to get into a steady workout routine.
Follow-up Care
Dr. Alvarez will provide the paperwork and documentation for you to take to the doctor managing your post-operative care. You should attend all of your appointments and bring a list of any questions or concerns you have. Our team will also follow up with you via email or phone to ensure you are healing optimally.
Are You a Suitable Candidate for Gastric Sleeve?
The best way to determine your candidacy for gastric sleeve is to personally consult with Dr. Alvarez. He will evaluate your health, lifestyle and treatment goals before recommending you for surgery (or suggesting an alternative).
In general, you may be a good candidate for gastric sleeve if you:
Have a body mass index (BMI) between 30 to 54 with weight-related health issues (e.g., arthritis, sleep apnea, high blood pressure, diabetes)
Have a body mass index (BMI) of 40 or above with no weight-related health issues
Have tried other weight loss methods with little to no success
Can commit to making significant and sustainable changes to your diet and exercise
Are not alcohol or drug-dependent
Have been overweight for at least five years
Why You Should Choose Gastric Sleeve
Professionals like Dr. Alvarez prefer gastric sleeve surgery for most obese patients because while it decreases the size of the stomach, it does not change the stomach's functionality. Reducing the size of the upper part of the stomach that is responsible for creating hormones known as ghrelin, that make you feel hungry will decrease your appetite. The average gastric sleeve patients loses around 65% of his or her excess weight within one year.
Gastric sleeve surgery is also safer for a wider range of patients. Patients who do not qualify for other bariatric surgeries may still be a good candidate for gastric sleeve. People who fall into this group are often older, only mildly obese (50-75 pounds off from a normal BMI) or have other serious medical conditions like heart disease, ulcers and hernias.  
Gastric Sleeve Safety
A study by Stanford University found that gastric sleeve has the lowest rate of complications (0.96%) out of all bariatric surgeries. Research from the American Society for Metabolic and Bariatric Surgery backs that finding, adding that the complication rate remains below 1% even 30 days after the procedure.
Dr. Alvarez's complication rate is even lower than the industry average. Because gastric sleeve is the only surgery he performs, he knows the procedure inside and out. Gastric sleeve can be completed more quickly than other bariatric surgeries, which helps reduce the risk of complications.
While all surgeries come with certain risks, gastric sleeve is widely considered safe thanks to its minimally invasive techniques. Potential complications that can occur after surgery include hemorrhaging, pulmonary embolism, irregular heartbeat and gastric leaks. In the unlikely event that any of these complications arise, the Endohospital staff has the knowledge and skills to provide excellent care to get you on the mend.
Safety of Medical Tourism
Mexico is regularly recognized as one of the safest and most popular destinations for safe medical tourism. Although some patients are apprehensive to travel to Mexico, the Endobariatric facilities are just eight blocks away from the United States border near Eagle Pass, Texas. That makes it easy for you to drive into the country (please bring a passport or your birth certificate) rather than flying.
The surrounding community is safe and welcoming. Multiple times a week, we offer our patients a shuttle to the local shops, restaurants and Endospa. We pledge to look out for your well-being throughout your entire trip.
Our Endohospital was custom-built for Dr. Alvarez for the express purpose of performing gastric sleeve surgery. It features hospital rooms, a laboratory, a cafeteria and a radiology department. This state-of-the-art facility has achieved transformative results for more than 19,500  patients. Our staff is bilingual and security measures are in place to keep patients safe while on-site.
Endobariatric's impressive track record is the reason it is one of a handful of facilities in the world designated as a "Center of Excellence" for metabolic and bariatric surgery by the Surgical Review Corporation. We are recognized for our "excellence in safety, efficacy & efficiency" and are honored to have that distinction.
How to Get Ready for Gastric Sleeve Surgery
Preparing for your gastric sleeve surgery demonstrates a commitment to changing your lifestyle. There are many ways to get ready for the procedure, some of which involve Dr. Alvarez and our office. You will need psychological assessments, nutritional counseling, physical exams, and blood tests, and you may require an upper endoscopy to view the upper digestive tract where Dr. Alverez will operate.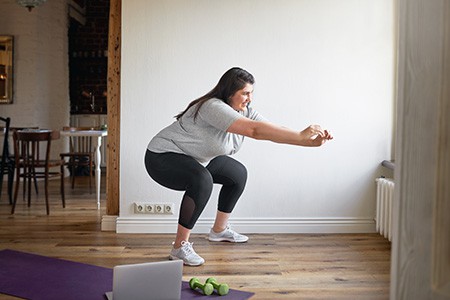 Dr. Alvarez will give you detailed pre-operative instructions so you can be psychologically and physically ready for gastric sleeve surgery. If you smoke, you must quit months before the procedure so your body can heal without issue, and you must also refrain from smoking for several months afterward. Stop taking blood thinners, such as aspirin and ibuprofen, when directed (typically seven to 10 days before surgery).
Changing your diet is a necessary step in preparing for weight loss surgery. You will likely be asked to try and lose weight in the weeks before the procedure. Dr. Alvarez tells patients to alter their diet two weeks before gastric sleeve and focus on eating lots of protein and minimal carbohydrates. This diet shrinks the liver and abdomen to make navigating the laparoscope through the internal structures easier. Weight loss in the two weeks before gastric sleeve surgery leads to safer outcomes and faster recoveries. Starting and maintaining a workout routine is another way to prepare for your new lifestyle.
You will need support from close friends and family members mentally and physically as you prepare and recover from weight loss surgery. Online support groups, such as those found on Facebook, can be beneficial for sharing your experience and learning from others who have also had vertical sleeve gastrectomy.
Lastly, you will want to prepare your wardrobe and home for the coming months. Focus on loose clothing with elastic waistbands, because your abdomen will be sore and binding clothing will add to your discomfort. Buy a few items in smaller sizes, so you have something to wear as you lose weight. Prepare your home by cleaning, tidying up, and creating a recovery space. Fill your prescriptions beforehand and buy stool softeners and over-the-counter pain relievers. You won't be able to exert yourself after gastric sleeve, so coming home to a clean house stocked with recovery items, such as clear liquids, medications, and comfortable clothes, will help you settle into the healing process.
Gastric Sleeve FAQs
What is the difference between sleeve gastrectomy and gastric bypass?
The goals of both sleeve gastrectomy and gastric bypass are to shrink the size of the stomach so that patients feel fuller even after eating less food.
Gastric sleeve reforms the stomach into a sleeve-shaped tube capable of holding less volume overall. Because the sleeve is incapable of holding as much food as it previously did, your body sends signals to your brain to curb your eating. This surgery also involves removing the fundus, the upper part of the stomach that produces ghrelin, a hunger-triggering hormone.
Gastric bypass leaves the entire stomach intact while surgically attaching a "pouch" to the intestine in order to reroute food away from the stomach. Instead, the food accelerates through the gastrointestinal tract.
After studying the full range of bariatric procedures available today, Dr. Alvarez chose to devote his practice exclusively to sleeve gastrectomy, performing a limited number of procedures a day to ensure each patient has his full attention, focus and support. His advanced skill and depth of experience have produced highly satisfying outcomes for patients in the U.S., Mexico and throughout the world.
Is it common to have lingering cravings for food after sleeve gastrectomy?
Post-surgical cravings are to be expected in the weeks after sleeve gastrectomy, as your appetite slowly adjusts to your body's new lack of interest in overeating. It is important to understand the distinction between appetite and cravings.
Your appetite (or hunger) is a survival mechanism for your body to tell you that you need to consume more nutrients to function normally and efficiently.
Cravings, on the other hand, are a symptom of your own imagination, urges telling you that you need certain foods to feel better. Prior to surgery, your body and brain would typically agree that you need more food. Post-surgery, your stomach and mind will give conflicting opinions, so learning to manage old cravings can take some adjusting and practice.
What are the best ways to manage these cravings?
Dr. Alvarez recommends that you devise a plan to adjust your eating habits, and then commit to it fully. Put binge-eating permanently behind you by consuming modest portions throughout the day. By satiating your body with a smaller, consistent food intake, you reduce your likelihood of succumbing to hunger pangs during the night. It is also a good idea to keep your kitchen stocked with healthy alternatives to the sugary and fatty foods you used to enjoy.
When you are in the mood for something sweet to eat, grab some fruit. Fruits like oranges, bananas, apples and grapes can satiate your sweet tooth without adding too many empty calories. You can also try to incorporate sweet spices like cinnamon or essential oils like fennel into your diet as alternatives to sugar.
One of the best diet tips is to fill up on water and nutritious foods ahead of any treats, so that your smaller stomach will feel full by the time you hit dessert. If late-night snacking has always been a problem for you, consider adjusting your sleep schedule so that you are not awake during these hours. You should also keep your previous trigger foods out of your kitchen entirely, replacing them with sensible, healthy foods. You may still occasionally want a chocolate chip cookie, but your digestive system will be just as happy when you give it smoked almonds.
Will I need skin removal surgery?

Skin removal surgery is primarily a cosmetic procedure but may be medically necessary if the excess tissue causes skin chafing, pain, and infections. Many patients are uncomfortable with the appearance and feel of their baggy skin. Depending on the amount of weight you lose, you may have up to 40 or more pounds of loose, sagging skin. Skin reduction surgery is an elective procedure that removes the excess skin tissue, making it easier to shower and exercise, and improves your health if the skin folds are prone to yeast or bacterial infections.
Will my weight loss after gastric sleeve surgery last?
Gastric sleeve is a highly effective bariatric surgery, but it's not a cure for weight problems; it's a tool to help you manage your size and health. Whether your weight loss is permanent is largely up to you. Research shows that patients followed for over five years after their gastric sleeve surgery achieved sustainable weight loss. However, it is possible to regain some or most of the weight if you return to your old eating habits. Eating small portions and physical activity are the best ways to maintain a lower weight.
Schedule A Free Gastric Sleeve Surgery Consultation
If you would like to learn more about the gastric sleeve surgery and Dr. Alvarez's approach to patient care, we invite you to request a free consultation. You can reach us by calling 1-800-381-8115 (toll-free) or filling out our online contact form today. We look forward to speaking with you and discussing your treatment options and goals in greater detail.